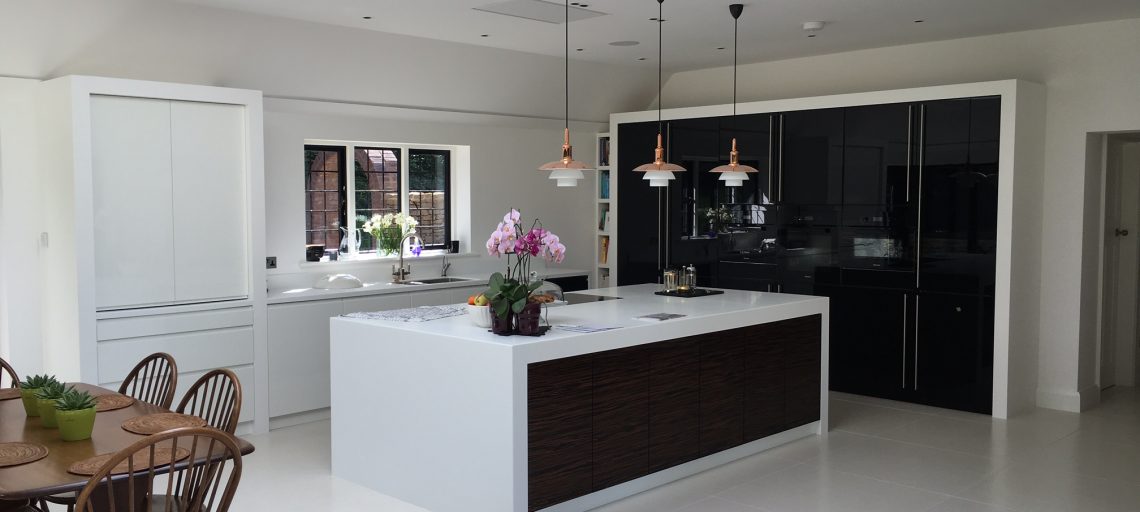 Corian in your Kitchen
Corian is one of the many options we offer for worktop materials, however it's also the material which most people have a few more questions about. Corian has dozens of applications, from kitchens to bathrooms, hospitals to boats, an even as external cladding for buildings. There are some great advantages to using Corian in your kitchen:
Resistant – Corian is solid, non-porous homogenous material, which cannot delaminate over time and stands up well to daily use.
Hygienic – Due to the ability to fabricate Corian with inconspicuous seams, this material is very hygienic.
Repairable – Corian surfaces are renewable, they can be repaired and restored usually with a mild abrasive cleaner. Damage can, in most cases, be repaired on site without having to replace the material.
Design – As Corian can be glued together to give a seamless look, there are endless design opportunities. Long runs of worktop for example can be made in pieces and joined together on site.
Colourful – Corian comes in many different colours, and can be used as a basis for a colour scheme, or to add accents to other materials.
Sinks – Kitchen sinks can be made into an integral part of your worktop with Corian, offering a fantastic seamless look, as well as an incredibly hygienic finish.
Charging – Corian have recently developed their in-built phone charging system, a device which lives within the Corian and offers wireless charging automatically. For more information on this please visit www.corian.co.uk/PowerUp
We have Corian Glacier White on display in our showroom, including coved upstands, drainer grooves and coved upstands, as well as the full complement of Corian samples, if you have any questions about Corian please give us a call or pop in to our Guildford showroom.