The Best Larder Cupboards
Almost as popular as the kitchen island, having a great larder in your kitchen is often at the top of our customer's wish list. With the potential to elevate the practicality of your kitchen, larders can add a plethora of space through adjustable shelving and drawers which are often bespoke to client requirements. Whether there is a need to store a lot of herbs, or perhaps you have lot of different cereals and tinned food, your pantry can be created to maximise on storage and ensure you have visibility of all your produce. Aside from the functionalities, larders can be great design pieces too. Perhaps you want to allow the pantry to flow seamlessly into the rest of your kitchen design or, if you've got the space, you might want to create a statement piece in a bold colour. Whatever design you opt for, when you open them up, you will feel pretty smug with the neat arrangement inside!
As there are so many choices around, we wanted to help you by narrowing down a few of our favourite larder designs. Please give us a call on 01483 573 989 for any more information on these larders, or to begin designing your new kitchen.
Hathaway
With shelves and drawers of different heights, the Hathaway chef pantry can be personalised to suit your requirements, giving everything its place.
Lansbury
Make use of the corner space with a Lansbury corner pantry. A twist on the classic pantry, the design and deep shelves mean you make the most of all your storage space.
Space Tower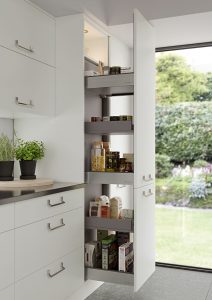 If you want your larder to blend with the other cabinets in your kitchen, opt for a space tower. Hidden away and extremely practical, this pantry design continues to be popular.
Connery
Not technically for food storage, but in the same vein, this Connery cocktail cabinet with a mirrored backboard, downlights and glass shelving, oozes sophistication and glamour.