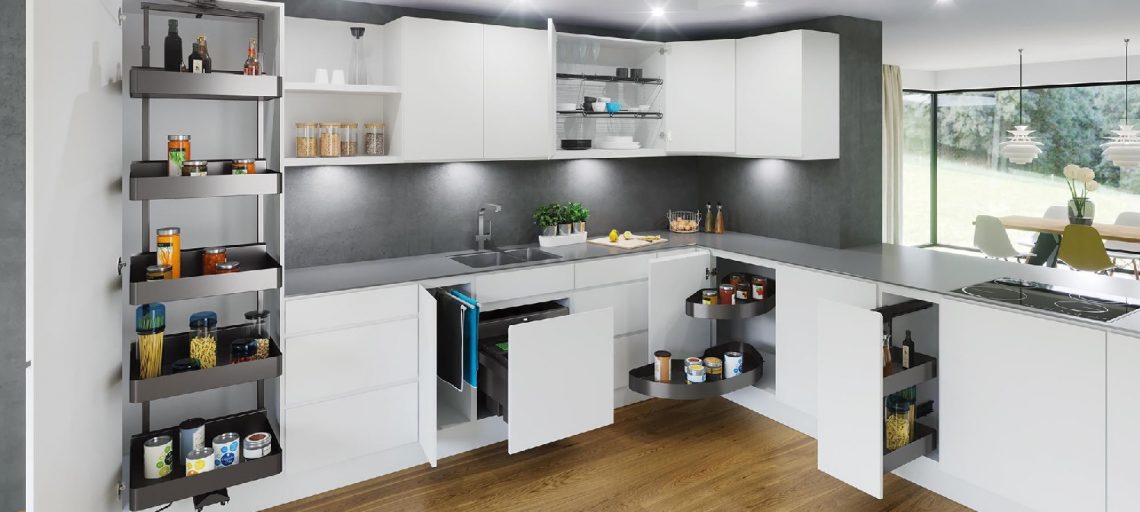 Space, Storage and Solutions
Clever storage in the kitchen is always very high on the priority list for our clients, so it's been our mission to source the best quality, affordable solutions. From corner pull-outs to get into those pesky dark spaces, to gliding tall racks to make the most out of larders, we know that simple additions to our cabinetry can make the world of difference to the day to day use of your new kitchen.
Corners are always tricky spots in the kitchen, and lots of our clients are nervous of corner pull-outs, as kitchens from just a decade ago relied on clunky carousels or crossover shelves to deal with them, but now we have many new, superior options available to us. The Le Mans corner (so named after the race track), which pulls out entirely, to the Magic Corner which offers unmatched storage space, things needn't get lost in the hard-to-reach spots anymore.
Integrated bins hide away unsightly freestanding waste containers, and are divided to take recycling, general and food waste all in one unit. Whether you need something tidily tucked under the sink, or a dedicated cupboard, there is a neat solution available.
Pantries and larders are great additions to any kitchen, but much like with corner cupboards, things used to get lost and forgotten about towards the back of the shelves. Extending pull-out racks, internal drawers and even full height wine and bottle racks are the solution. These too have improved massively over the last few years.