Kitchen Colour Inspiration
Extremely exciting for some, but slightly overwhelming for others, we know first-hand that getting a new kitchen involves many different design decisions.
From traditional or contemporary and if want the ever-popular kitchen island, to whether to choose handle-less cabinets and what your new lighting concept and colour palette will be. Being the heart of the house, your new kitchen needs to work for you. Here at Seymour Kitchens, we want everyone to feel excited by the decision-making process, so we're helping you with one aspect this week – giving you some colour inspiration.
From clean and minimal whites to bold dark or bright colours, getting a new kitchen gives you the blank canvas to decide what "look" and "style" you want to achieve. Natural fibres tend to offer up a timeless charm but opting for a "wow" colour could transform your space from an average kitchen to a modern, contemporary kitchen. There are a few things to consider, like how much natural light there is, and how the kitchen will complement the rest of the house or elements remaining in the room. For some inspiration, please check out some colour ideas below.
Go White
Embrace minimalism and opt for an all-white kitchen. Far from boring or safe, when done well, it creates a bold, contemporary look which is airy and light.
Go Dark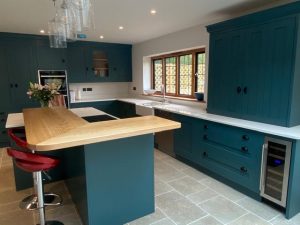 Be daring a go for dark kitchen cabinetry! Tipped as a top trend back in 2020, the darker shades have got more and more in demand ever since. Green, the most popular colour, symbolises energy and renewal, this love affair with green, with the natural calm hue, is not going away.
Try something different
Go Pink! Pink has a surprisingly varied palette, with most adding warmth to even the coldest room. From coral to blush, there's a pink hue for everyone.
Neutral Tones
For a colour palette that will never go out of style, choose neutral tones. Warming and rich, you do not need to rely on paints to create a fantastic style – use the natural wooden grains to add depth and character.