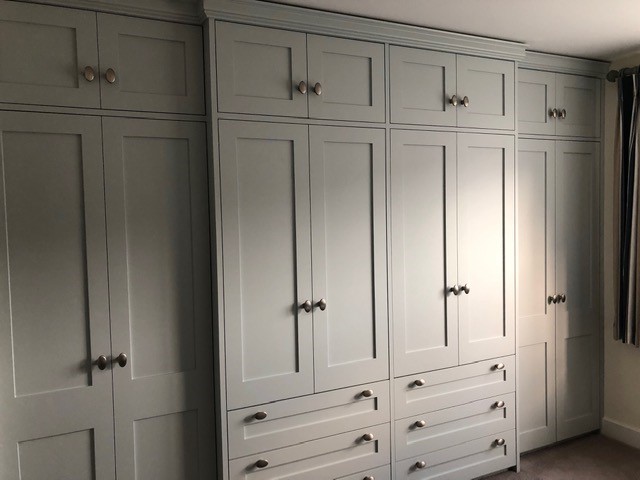 Bespoke Fitted Wardrobes
An essential piece of furniture in every bedroom, the wardrobe is one of the most frequented cupboards in the house. There's not a much more satisfying feeling than opening one up and revealing a neat wardrobe, organised with a space for everything. Whether you have just moved into a new house, or you think it is finally the time to give your clothes a spruced-up home, here at Seymour Kitchens, we also create bespoke furniture for other rooms in the house.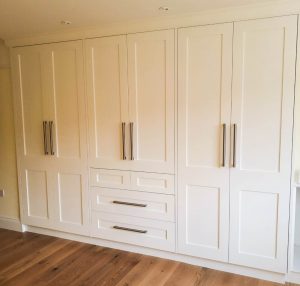 Built to your requirements
Crafted in our workshop, behind our showroom, we can create beautiful bespoke wardrobes. Tailored to all your requirements, our custom-built wardrobes are designed to every inch of your bedroom configuration. With no space spared from floor to ceiling, and designed exact to your requirements, everything will have its home. Shelves & railings can be positioned in any configuration you require, so whether you have pairs of shoes by the dozens or lots of dresses which need to be hung on long rails, it will all be taken care of.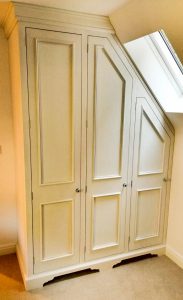 Hand-painted
Here at Seymour Kitchens, we hand-paint all our wardrobes with Farrow & Ball or Little Greene paints. With a huge array of different colours to choose from, these quality paints are both durable and known for their elegant tones. From muted pantones which will blend into your room to creating a "wow" factor feature wall, there are paint choices for you.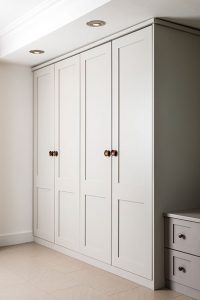 Get everything done at once!
Avoid having to get workmen in on different occasions, and get your wardrobes fitted at the same time as when you're installing your new kitchen, knowing you will get the same high-quality furniture throughout your house.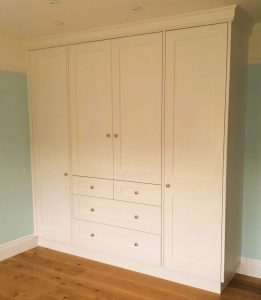 Pick what you want to store
You do not need to stop at railing and shelving in your bespoke fitted wardrobe. From inset mirrors, internal lighting and pigeonholes to fronted chest of drawers, storage for suitcases and small jewellery drawers, these wardrobes are created to fit your exacting storage needs.