From Design to Completion
Seeing a project go from 'just an idea' to being completed is definitely the most gratifying part of our job. Earlier in the year we worked with a wonderful couple who had a really interesting brief in terms of the style of their kitchen, it was to be modern, warm and striking. We started as we always do with a meeting to discuss their ideas, followed with a draft plan and an estimate.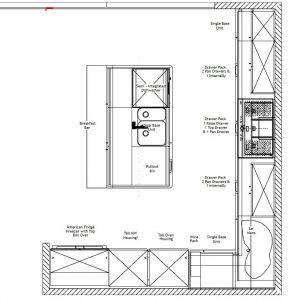 After this point we played around with colours, textures, finishes and materials, deciding quite quickly on the layout and door fronts. The next step took a little more time, with the client visiting our local granite yard to get more of an idea on the options available for their island worktop, having started with a relatively neutral black and white quartz composite, they came back from their trip with two options for their worktops, cosmic black or magma black – both beautiful lively granites.
Then we produced our 3D perspectives for the project, where we can show the options for colours, handles, lighting and much more.
Here is the 3D perspective: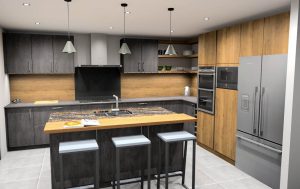 And here is the finished project: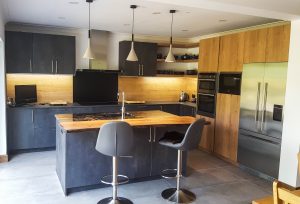 We were all thrilled with the result and it was so enjoyable to design and install such an interesting kitchen.