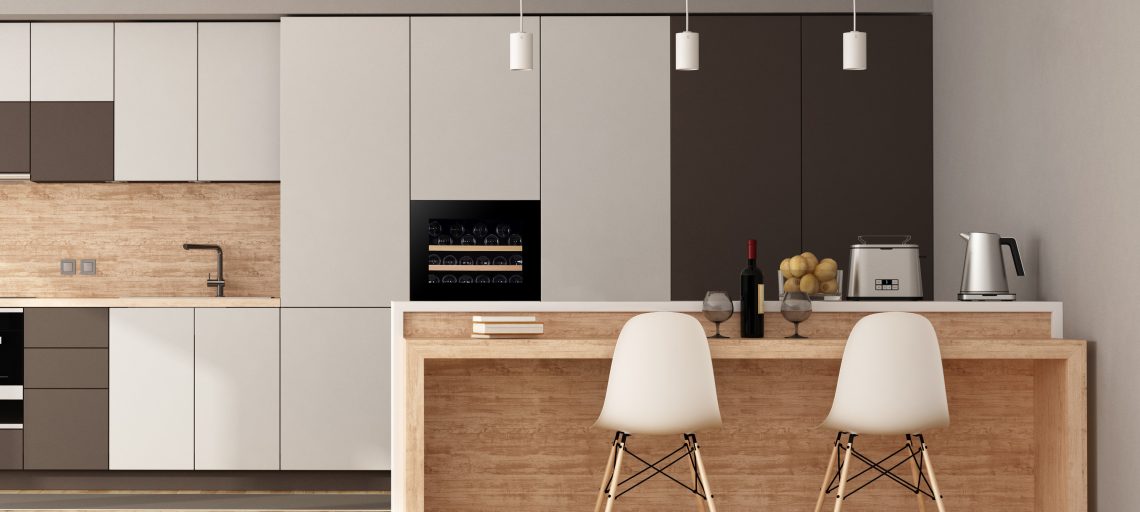 Focus on: Wine Coolers
For this post we have collaborated with Elite Wine Refrigeration who are a distributor of premium wine coolers across the UK and Ireland.  Throughout the post the different types of wine coolers available on the market have been discussed and their specific installation requirements.
Built in Wine Coolers
As wine coolers become more and more popular in kitchens, built in wine coolers are often incorporated into a design where there is space available. These wine coolers come in standard sizes such as 150mm, 300mm, 400mm and 600mm – just like standard cabinet sizes, and are designed to be 'built in' under the kitchen worktop or bespoke cabinetry built around a large full height wine fridge to help ventilation around the unit.
These models are equipped with a front vent and fans under the unit, so it's important that the vent must not be blocked for free air to flow in and out. That means, a grille must be installed in the plinth if you wish to cover the vent.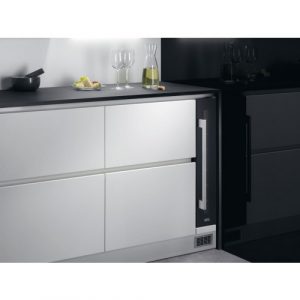 Freestanding Wine Coolers
Freestanding models are designed to standalone in a space where there is enough space for ventilation. When installing a freestanding wine cooler, it is imperative that the manufacturer's instructions are followed, which is usually a minimum of 3 – 5 inch gap around the sides of the wine fridge and it must not be enclosed from the top.
This is to ensure the compressor stays cool and prevent overheating as it is not equipped with a front vent like built in models. For example, it is not to be placed undercounter or inside a cabinet – doing so will void the manufacturer's warranty.
Integrated Wine Coolers
Integrated wine coolers have specific installation requirements but are the easiest way to incorporate a wine cooler into a kitchen design without it taking up floor space – there is also a wide range of sizes so depending on the capacity or space you have available you have there should be some good options available.
Integrated wine coolers are available from lots of well-known brands such as Miele, Liebherr and Dunavox have the widest range of integrated wine coolers available on the market today which includes handle-less models as well.   With the ability to choose the size you want integrated wine coolers generally come in sizes that match other integrated kitchen appliances such as Single ovens, double ovens, integrated microwaves and integrated coffee machines.  Coffee and wine go hand in hand so we often see these two appliances installed either one above the other or side by side.
This type of wine cooler is very versatile but they do have specific installation instructions as unlike built in wine coolers, they do not have their own in-built ventilation system – in effect we have to create this for it – as with any other integrated appliance.  Before installing an integrated wine cooler, you need a vent incorporated into the plinth and space at the back of the tower unit which will allow the cool air to reach the compressor and the warm air to escape at the top of the units.  If this isn't met, the cooling ability will be hindered and usually the wine cooler will over heat.