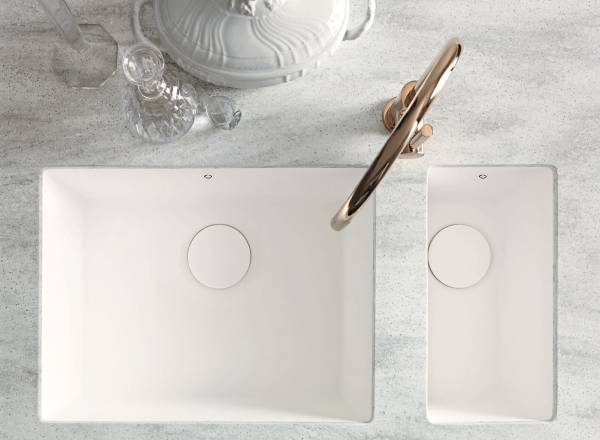 Choosing a Sink
Sinks used to be almost add-on items to a kitchen, which designers would choose for their clients with a standard tap. Now they have become a focal point to a kitchen, with an increasing choice of colour and materials available, it can be a design statement in its own right.
Stainless steel sinks still prove to be the most popular, taking up to 70% share of new sales. It's a resilient material, which seems to sit well with most kitchen styles, but the design and shape of stainless bowls has definitely been refreshed.
Granite sinks are the newcomers, with Franke's offering of Fragranite, and Blanco's Siligranite (amongst many others). Granite sinks offer natural colours and add texture, as well as being hard-wearing, scratch resistant and easy to clean. Most brands offer their granite sinks in a range of neutral colours – white, grey and coffee shades, as well as black for more dramatic installations.
Ceramic sinks used to just be for Belfast, Butler and French Farmhouse sinks, but standard insert or under-mount sinks are also available in ceramic. Shaws of Darwen are a UK company who handcraft their fireclay sinks in the North West, and offer a huge array of styles.
Corian has been a popular choice for sinks for a few years, but it's becoming more prevalent. Moulded seamlessly into the work surface, Corian sinks give a sleek contemporary feel, suited well to modern style kitchens. Available with stainless steel bases for use with boiling water taps.
There are hundreds of sinks available, if you need help choosing, or need advice, pop in to our Guildford showroom to speak to a designer.