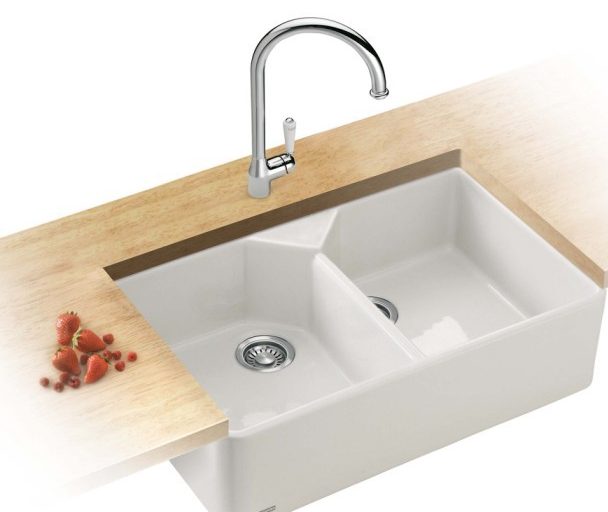 Ceramic Kitchen Sinks
Kitchen sinks cause a lot of people a headache when they first start thinking about their new project. Undermount or inset? Ceramic or stainless? Drainer or no drainer? It's a tricky decision to make, as even with a dishwasher now being a kitchen staple, the sink is still used multiple times a day. In this blog I'm going to explain a little more about ceramic sinks, which are the second most popular choice to stainless steel. We at Seymours love a ceramic sink, with many on display, and David Seymour himself having a double Belfast at home!
Style
Although most associated with traditional kitchens, the rise of different designs of ceramic sinks mean you can put them in any type of kitchen. A Belfast or Butler sink (the difference, by the way, being the overflow) are great for country style kitchens, with their large bowl sizes being useful for big pans, wellies, or even in the case of one of our clients, her cocker spaniel!
Durability
Ceramic sinks can take a bashing, they are near on impossible to crack or chip nowadays, thanks to a lot of research and development over the last 20 years or so. Villeroy & Bochs 'CeramicPlus' means they are easy to clean, and more importantly, to keep clean. Below is a picture of a 13 year old double French farmhouse sink, in a family home with a lot of daily use.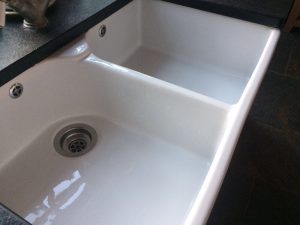 Colourful
Ceramic sinks were traditionally always white, but more and more manufacturers are developing a range of colours for their ceramic sinks, Franke for instance have a black ceramic sink, whilst Blanco have a range of 6 colours.
Now, there are a few downsides to ceramic sinks, which are best to be aware of when considering which type of sink you might like. Firstly, they do tend to be a little more expensive than stainless steel sinks, secondly they are incredibly hard, so are likely to break any crockery that you may accidentally drop in them. Finally they can look dirty quite quickly if you don't rinse and clean frequently, particularly with a white finish.
If you have any queries about choosing a sink, please pop into our Guildford showroom to talk to a designer about options.
Save