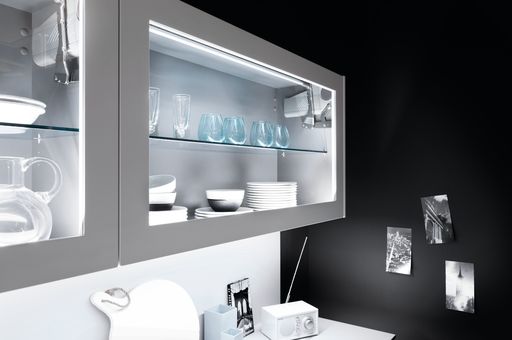 Understanding Kitchen Terminology
Buying a kitchen isn't something many people do very often, and it won't take too long before your google searches leave you confused. We spend our day talking about undermounted sinks and integrated dishwashers, so it's easy to forget that unless you've done a lot of homework, or you've remodeled your kitchen before, that not everyone has heard of these things. Here I thought I'd break down some of our terminology.
Bespoke
Everything excluding the fixtures and fittings would be designed in house then built in our own workshop. Usually chosen due to an awkward space or non-standard requirements.
Built In
Appliances which are built into a unit, rather than freestanding. Usually ovens, steam ovens, coffee machines, fridges and dishwashers.
Built Under
Appliances which are built into cabinetry underneath the worktop. Typically dishwashers, wine coolers and fridges.
Carcase
The interior of the cupboard. These come in different materials and you may have to choose the material or colour you would like. Normally either melamine faced chipboard (MFC) or real veneer.
Contemporary
Also referred to as 'designer' or 'modern'. A contemporary kitchen focuses on clean sharp lines, with less detail than a traditional kitchen. There is often an emphasis on high tech appliances in a contemporary kitchen.
Cut-out
Sinks, hobs and taps all require holes in the worktop, these are referred to as 'cut-outs'. Your designer will notify the worktop supplier of any cut outs required.
Fitted furniture
Furniture which cannot be moved and in the event of moving house, will be part of the fixtures and fittings when sold.
Freestanding undercounter
An appliance, such as a dishwasher or fridge, which sits underneath the counter but is not built in, and the fascia is seen.
Hand Painted
A type of finish. As the name implies, the doors are painted by hand, on site to your own colour choice.
Handleless
The absence of knobs and handles on cabinet doors. This creates a very clean minimalist appearance.
Integrated
Appliances which are hidden behind an attached door. Usually dishwashers and fridges. Dishwashers can also be 'semi-integrated' with the top fascia panel exposed.
Plinth, skiting, kickplate
The panel which runs along the very bottom of the cabinet, to hide the legs. Plinth/Kickplate are one of the same and are set back, whilst a skirting is set on the fascia so sits forward.
Shaker style
Shaker style doors typically feature straight edges with an inset panel.
Splashback
A splashback is a length of material which runs behind cooking areas or sinks to stop splashes. It is often taller than an upstand.
Templating
This is required when specialist worktops are used, typically granite, slate, glass or timber.
Traditional
Also referred to as 'country' or 'farmhouse' kitchens. This style aims for a more rustic rural look, with tongue and groove panelling being very popular.
Undermounted
This applies to the fitting of sinks, rather than being laid on top of a hole in the worktop, undermounted sinks are set into the worksurface.
Upstand
A narrow continuation of the worktop, often 50mm to 100mm high which runs around the wall to create a clean join between the worktop and wall. Typical upstands are a continuation of the worksurface, tiles or glass.